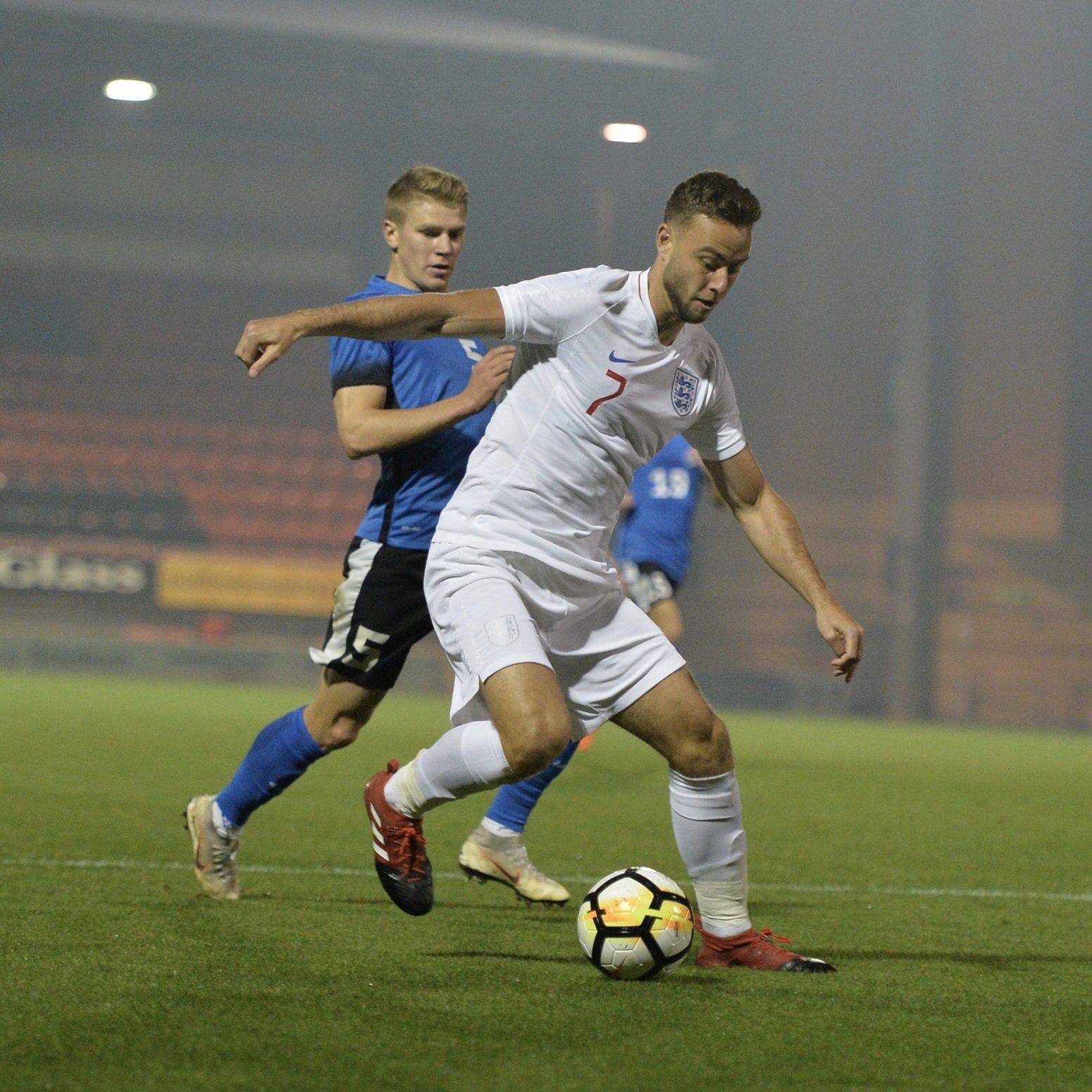 Josh Taylor is a semi-pro midfielder for Dorking Wanderers FC in the National League South. He previously played for Havant and Waterlooville FC and made his England C debut in 2018. Josh attended St Edwards University in Austin, Texas and now works as a talent scout for Tom Nutter Soccer. I caught up with Josh earlier this week to talk about life as a semi-professional footballer and scout, his advice for young footballers, and to reflect on how Tom Nutter Soccer Scholarships helped him get to where he is now.
 What would you say the most significant contrast is between playing soccer in the UK and the US?
On the pitch, I think that in the States more emphasis is placed on the physical aspect of the game, players needing to be as fit, strong, and quick as possible. Off the pitch, I found from my experience in college and USL 2 teams that there was a better team ethic in the States, in terms of that team spirit, and everyone supporting each other, with the primary goal that the team is successful, even from the players that aren't playing much. I'm not sure if that translates into the pro ranks over there, but that was something that stood out to me, in college in particular.
What has been the biggest highlight of your career so far?
I would have to say representing my country in the England C team against Estonia and Wales. England C is a team made up of the best footballers in the non-league system, so I was proud to be called up to that a couple of times.
 What would you say to someone who is considering going to the US on a soccer scholarship?
I would tell them of my personal experience in the US and how it was the most enjoyable four years of my life, and the best decision I've ever made to take that leap. I would say that other than signing a professional deal for a top club at 18, then this is the best move for them from a football standpoint, to go into full-time training in brilliant facilities with top coaches, and that they will be able to develop as a player significantly in those four years. To a person who is a top player but doesn't necessarily see themselves staying in the game after college as a professional player, then I would still recommend them going out on a scholarship, to have that balance of being part of a team, getting their degree and having incredible life experiences. Not only do people develop in terms of their football, but they develop and grow as people, moving away, having that independence and having to grow up quickly, I think, helps them become better and more rounded people.
What was your biggest takeaway from playing and studying at St Edward's University?
I was fortunate that I was surrounded by really hard-working, committed players and very professional coaches during my time at St Ed's. So I would say that the biggest takeaway from my time there was having that work ethic and professionalism drummed into me. Before being in the States, I would just turn up to training and games and play and not put too much thought into what I was doing off the pitch. But during my four years, my mindset to the sport wholly transformed. I put in a lot more work off the pitch regarding gym and fitness work and extra technical training on individual aspects of my game. My nutrition also improved massively and the way I prepared for games, which ultimately led to me becoming a far, far better player.
 Who is your inspiration when it comes to football?
I would have to say my parents were both incredibly supportive of me growing up, driving me all across the country for training and games. Even when I played in the states, my dad would stay up until 2-3 in the morning to watch our games on a stream on the laptop. He hates missing games and is the same now since I've been back in England; he'll only miss a handful out of a 50 game season. So they are the ones I'm ultimately always trying to impress and make proud.
After experiencing first-hand, the benefits of TNS to assist the college admissions process, and now with your insider knowledge as a talent scout, how far would you go to recommend this (Tom Nutter Soccer or similar) as the best route for an aspiring student-athlete to take?
I would 100% Tom Nutter Soccer to any person interested in the US college route. Tom is arguably the most honest and hardworking person I have had the pleasure of dealing with in football. He makes the process as smooth as possible, gives you an honest assessment of what level he believes the player can play at and what level of scholarship they'd be able to get. The level of detail and focus he gives to each of his players is second to none and promotes them very well to his vast network of contacts in the college game. I would not hesitate at all in recommending Tom to an aspiring student-athlete.